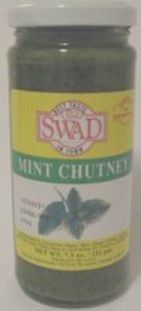 Mint Chutney, Cilantro Chutney Coriander Chutney it pretty much all tastes the same.

Mint Chutney is made with mint leaves and hot chilli peppers. Often mint chutney will be made with mint leaves and cilantro or coriander leaves. If you ask me it is all pretty much tastes the same.

Mint chutney is usually put on papads or papadam and on samosas.

The one thing that annoys me about mint chutney is it is rather expensive when you buy it at the Indian grocery store in a jar. You may want to make your own for that reason. It is very easy to make. A 14 year old at the Indian grocery store on Bell Road and 16th Street in Phoenix taught me how to make it.

If you make mint chutney buy the mint leaves at an Indian or Oriental grocery store. Mint leaves in American grocery stores are usually very expensive compared to the same stuff sold in Indian or Oriental grocery stores.

Here are a few mint chutney recipes off the web.
---
1 bunch mint, cleaned, stemmed and coarsely chopped
3 bunches cilantro, cleaned, stemmed and and coarsely chopped
10 Thai green chili peppers, stemmed, seeded and coarsely chopped
1 -inch piece peeled ginger root, finely minced
3 medium cloves garlic, crushed
2 tablespoons freshly squeezed lemon juice
1/2 teaspoon salt
Combine the ingredients in a blender on medium speed to form a paste. Adjust seasoning to taste.
Makes 1 cup
---
2 cup mint leaves, fresh
1/4 teaspoon salt
1/4 cup sugar
1/4 teaspoon ground red pepper
2 tablespoon water
Put everything into an electric blender and mix well. Serve with veggies.
---
1 bunch fresh cilantro
1 1/2 cups fresh mint leaves
1 green chile pepper
1/2 teaspoon salt
1 medium onion, cut into chunks
1 tablespoon tamarind juice or lemon juice
1/4 cup water, or as needed
In a food processor, combine the cilantro, mint leaves, chile pepper, salt, onion and tamarind juice. Process to a fine paste, adding enough water to achieve a thick sauce.
---
1 bunch fresh mint
1/2 bunch fresh cilantro
1/2 inch piece of ginger root
salt to taste
1 green chili
2 tablespoons lime juice
1/2 teaspoon sugar
2 teaspoons coriander powder
2 teaspoons amchoor (mango powder from Indian grocery, or substitute more lime or lemon juice)
1/2 cup onion
1/4-1/2 cup water for blending
1. Clean the mint leaves and cilantro leaves.
2. Add all ingredients except the water together in a blender or
3. Blend/process and add water as you blend to make it the consistency of pancake batter.
---
1 bunch fresh mint leaves
2 green chillies
1 tbsp tamarind pulp
Salt To Taste
little water
How to make mint (pudina) chutney :
To make tamarind pulp soak little tamarind in water and keep aside for 2 hours.
Then strain the mixture in a bowl with the help of a spoon.
To make tamarind juice add little water to the pulp.
These days ready made pulp is available in the market. Wash the mint leaves well.
Grind it to a smooth paste with green chillies, salt and tamarind juice.
You can add water if the mixture is thick.
---
1 bunch mint leaves, washed and chopped
1 small onion, chopped
3-4 cloves garlic, crushed
1 small piece ginger, sliced
4-5 green chillies, chopped
1 tsp coconut(optional), shredded
2-3 tsp lemon juice
1 tsp cumin seeds or powder
1 tsp urad dhal
1 tsp channa dal
Salt to taste
Fry all these [spices] in a little oil, one by one. Blend [with mint] to a smooth paste using a little water.
---
a full bunch of Mint leaves
garlic 3 flakes
green chillies 3 - 4
tamrind paste 1/2 tsp
sugar 1 1/2 tsp
water 1-2 tsp (if needed)
salt as per taste
Wash and clean the mint leaves, then pluck it from its soft stem.

Put this leaves in the mixer and half gind it and then softly squeeze out the juice.

Again put these half squeezed leaves in the mixer and add all the other remaining Ingredients.

Grind it till chutney turns smooth.
---
Cilantro Chutney
cilantro, chopped 2 cups
channa dal 2 tsp
red or green Chillies 5
salt as per taste
Fry the channa dal and red chillies in two tsp of oil.

Chop the cilantro, add the tamarind and roasted channa dal, salt to taste and grind fine.
---
Mint(Pudina) - 1 bunch
Red Chillies(dry) - 2 nos
Mustard seeds - 1 tsp
Urad dal - 2 tsp
Tamarind dry - 1 small piece
Salt - to taste
Sugar - 1 tsp
Hing - 1 tsp
Oil - 1 tbsp
Wash & coarse chop the Mint.
In a pan heat the oil & add 1 tsp of urad dal, &chilliies. Fry for a minute. Keep it aside. In the same pan add the mint & fry till it changes color & once it is cooked it shrinks to half the original quantity.
Let it cool completely . Add the tamarind,sugar,hing & grind it to a fine paste. DO the seasoning with the other tsp of urad dal , mustard seeds in a tsp of oil.
---
3/4 cup chopped fresh cilantro - (firmly pa; cked)
1/2 cup mint, fresh; chopped & firmly packed
1 fresh hot green chili (opt.)
1 tablespoon lemon juice
3/4 cup plain yogurt
1/4 teaspoon salt; (more if desired)
Put the cilantro, mint, green chili, lemon juice, and 3 tablespoons water into the container of a blender or food processor. Blend until smooth, pushing down, if necessary, with a rubber spatula.
Beat the yogurt in a small bowl until it is creamy. Add the mixture from the blender and fold in. Add 1/4 teaspoon of the salt, mix, and taste. Add more salt if you need it.
---
This should actually be called "mint chutney". It is one of my favourite accompaniments to any Indian dish - especially fried savoury snacks like samosas, pakoras etc. It's really easy to make and will keep in the fridge for around 5 days if covered with clingfilm or in an airtight container. My Dad taught me how to make this - and I remember when we used to live in the Midlands when I was a child - we used to grow fresh mint and coriander in the back garden! It was my job to go get the leaves and stalks for my Dad when he wanted to make the mint chutney! (Be careful if you grow mint in your garden - it gets everywhere - best to grow it in a shallow, wide bucket submerged in the soil so that it doesn't spread!)
What you need is:
A smallish bunch of fresh mint: pluck the leaves and wash them.
A smallish bunch of fresh coriander - stalks and leaves together - washed.
One "tangy" or "sour" apple - e.g. "Granny Smith's" - halved and de-seeded.
One medium-size onion chopped into a few pieces. (Red onion is best.)
A couple of small fresh green chillies - with top stalk removed. (Remove seeds if you like.)
A few dashes of lemon juice.
A generous dollop/long-squirt of brown sauce.
Some salt and pepper.
A teaspoon of sugar.
You will especially love plucking the mint leaves from their stalks - the smell left behind on your hands and fingers is just heavenly!
Put all the ingredients (except the sugar) into a food-blender like in the picture below and zap it all up using pulse bursts until it's pureed. Use a long spoon to stir the mixture about if the blades of the blender have difficulty "grabbing" the chunks of ingredient. When it's pureed to a thick-ish consistency - transfer to a small bowl and stir in a teaspoon of sugar or tomato ketchup - tasting and adding more if necessary until you feel that the taste is just right. Put it in the fridge so that it sets slightly - and serve with any Indian dish or fried savoury snack! Very tasty!
If you wish to create a mint sauce which looks like the stuff that you get in the condiment carousel at Indian restaurants when you have crispy poppadoms or onion bhajis as a starter - you should get some plain natural yoghurt - put a couple of tablespoons into a small dish and and stir in a couple of dollops of the above mint chutney and stir it all around until the consistency is thin and liquidy to your liking. No need for food colourings or any other additives. Enjoy!
---
1 cup packed fresh mint leaves
4 scallions, coarsely chopped
1 small fresh green serrano chile, coarsely chopped (1 to 1 1/2 teaspoons), including seeds
1 large garlic clove, chopped
1/4 cup fresh lime juice
2 tablespoons water
2 teaspoons sugar
3/4 teaspoon ground cumin
3/4 teaspoon salt preparation
Coarsely purée all ingredients in a food processor.
Chutney is best eaten the day it is made (the color will turn overnight). Keep chilled, covered.
Makes about 2/3 cup.
---
Indian mint chutney should have a thin consistency, grassy-green color, and a fresh sweet-sour taste.
2 cups packed fresh mint leaves
1 cup packed chopped fresh cilantro
1 jalapeno pepper, seeded and chopped
1 clove garlic, chopped
1 tablespoon lemon juice
2 teaspoons sugar
1/2 teaspoon kosher salt
2 tablespoons plain yogurt
2 tablespoons water, or more to taste
1. In a blender, combine the mint, cilantro, jalapeno, garlic, lemon juice, sugar, salt, yogurt, and 2 tablespoons of water. Work the mixture until it forms a puree. The sauce should be as smooth as your blender can get it.
2. If the mixture seems too thick, add a little more water, 1 teaspoon at a time, to thin it. Taste for seasoning, add more salt or lemon juice, if you like. Serve chilled or at room temperature.
Makes about 3/4 cup
---
1 cup cleaned washed and drained coriander
1/4 cup cleaned washed and drained mint leaves (pudina)
3 green chillies
1/2 lemon
20-25 peanuts
Salt as per taste
Chop the coriander. mint leaves coarsely.
Put all ingredients in a small blender.
Blend till smooth. Add very little water if required.
Remove with a rubber spatula.
Store in a clean dry airtight bottle in refrigerator.
Use on buttered toast, bread or in sandwiches as seasoning.
Shelf life: 2-3 days (refrigerated)
Making time: 10 minutes.